"These LUTs are sure to satisfy different filmmakers' tastes. Love them!!"
⭐⭐⭐⭐⭐- Michael Hammock
Transform your videos with our best-selling Cinematic LUTs!
Cinematic LUTs by Moody Presets stands out from the rest with its unparalleled quality and versatility, making it the top choice for content creators who demand the best.
Compatible with: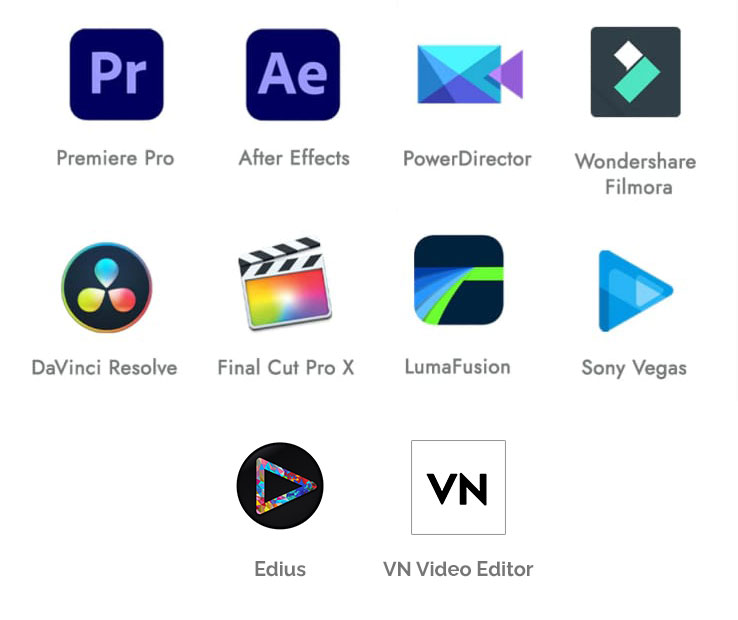 Why choose our Cinematic LUTs over others available online?
✅ Premium Quality: Moody Cinematic LUTs are crafted by industry experts, ensuring professional-grade results that stand out from the competition.
✅ Diverse Styles: This collection offers a wide range of cinematic styles, giving you more creative options to achieve the perfect look for your visuals.
✅ User-Friendly: Moody LUTs are easy to use, with a simple one-click application that saves you time and effort in post-production.
✅ Consistent Color Accuracy: Our LUTs are carefully calibrated for accurate color reproduction, ensuring consistent results across different devices and platforms.
✅ Creative Flexibility: Moody Cinematic LUTs offer unparalleled creative possibilities, empowering you to unlock your creative vision and create visually stunning content that captivates your audience.
Join the ranks of satisfied customers who have unlocked the true potential of their visual content with our best-selling Cinematic LUTs.
Elevate your color grading game and create jaw-dropping visuals that captivate your audience. Don't miss out – get your Cinematic LUTs today and take your content to new heights!
Additional info 
Once your payment is received you'll receive an automatic confirmation email with links to your LUTs.
If you need help using the LUTs go to our Instructions page. Don't worry, it's very quick and easy!